The Saanich-Gulf Islands Conservative EDA or Electoral District Association is the organization that represents the Conservative Party of Canada locally.
The EDA has important tasks to perform such as:
Ensuring a unified local presence of Conservative Party supporters
Participating in the development and promotion of Conservative Party policies
Promoting the Conservative Party and building party membership
Nominating and supporting a Conservative Party election candidate
Fundraising to support locally and nationally, the Conservative Party of Canada including election fundraising.
Developing and maintaining a local election readiness plan, and supporting the Conservative Party candidate during an election.
Our District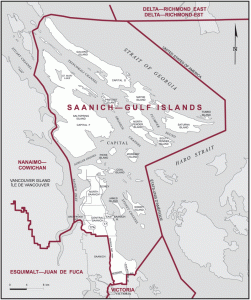 The Saanich Gulf Islands Electoral District covers approximately 504 square kilometers with a population of 115,724 (based on 2006 census data).  The number of registered voters on the final lists during the last election was 93,380 making Saanich-Gulf Islands one of the largest Electoral Districts in Canada.
The BC Commission on Redistribution is underway and the first map outlining the changes is riding boundaries shows a significant change here on Vancouver Island.  The final decision on boundary changes is not expected until later in 2013.
For more information about our Association, please contact us.
Join our Association or renew your Conservative Party of Canada Membership online.
To support your local constituency association Donate Securely Online.